Wiener Celloensemble 5+1
Members of the Wiener Celloensemble 5+1 include five men and one woman of different generations forming an intrinsic tension between the performers. Concert dress and seating on stage varies according to the program. Each artist plays a solistic as well as an accompanying role.
The year 2008 brought the fulfillment of a long awaited dream of mine: to create an untraditional cello ensemble intending on forging new paths in the classical concert world
Bolero performed by
Wiener Celloensemble 5+1
Our social media world success
Komponist: Maurice Ravel
Arrangement: Gerhard Kaufmann
Wiener Celloenseble 5+1 Program examples with different instrumentation
The +1 is exchangeable, basically it can be any instrument or singer
So far we have played with the flute or the trombone.
Ihr Titel
Your content goes here. Edit or remove this text inline or in the module Content settings. You can also style every aspect of this content in the module Design settings and even apply custom CSS to this text in the module Advanced settings.
First half of program
The first part of all programmes will be played in the traditional concertative way, without any play acting.
Wiener Celloensemble 5+1: 6 cellists: Example for SOLO CONCERTOS
J. Seb Bach:
Brandenburg Concerto No. 6
J. Seb Bach:
Concerto for 2 violins (slow movement)
Antonin Dvorak:
Concerto in b minor
Joseph Haydn:
Cello Concerto in C flat
E.Lalo:
Cello Concerto
C. Saint Saens:
Cello Concerto
P.I. Tchaikovsky:
Rokkoko Variations
A. Vivaldi:
Concerto for 2 Celli
Pause
Time to refresh yourself and have a nice glass of champagne.
A trip to spain - Happy and unhappy love
On a wonderful summer day a young girl breaks up with her boyfriend. He is heartbroken. Soon the girl falls in love with another man. Together they go on a trip to Spain. There they visit a show with typical Spanish music.
Gershwin-R.Korsakoff:
Summertime Hummelflug
Astor Piazzola:       
Oblivion
Fritz Kreissler:
Liebesfreud
Edudard Strauss:
Bahn frei
Manuel de Falla:
Danse Espagnol
Comedian Harmonists:
Schöne Isabella aus Castilien
G. Bizet:
Carmen's song from "Carmen"
Maurice Ravel:
BOLERO (check video) (4 musicians play on ONE Cello!)

The joyful evening comes to an end and  they go home
Joseph Haydn:
Adagio from The Farewell Symphony
International Congress on Women's Rights
At an international congress on women's rights, the men get into heated discussions. Opinions differ, the disputes escalate, and one even resorts to violence.
Into this chaos, a beautiful lady enters, she is shaken by this display of aggression, and instead dreams of true love Hearing her beautiful music, all the men immediately forget their quarrels and their qualms on women's issues. Instead they flock around her and compete in their efforts to get her attention.
Who is going to win her?
Johann Pachelbel, Aram Chatschaturian:
Canon /Dance de Sabre
Franz Liszt:
Liebestraum
Comedian Harmonists:
Schöne Isabella aus Castilien
Johann Strauss jun.:
Die Fledermaus – Csardas
Carlos Gardel:
Tango "Por una cabeza"
Leroy Anderson:
Typewriter
W.A.Mozart:
Duett: "Reich mir die Hand, mein Leben" from "Don Giovanni"
George Gershwin:
Summertime
The sad girl who turns every man's head
5 men drink champagne in excuberant mood. A beautiful girl plays a sad melody on her flute. All men are immediately caught under her spell
W. A. Mozart:
Champagne Aria from "Don Giovanni"
Claude Debussy:
Syrinx
W.A.Mozart:
Das Bildnis ist bezaubernd schön from "Magic Flute"
They adore her and try to get her attention. One man asks whether she can play on a piccolo flute too. Two men vie for her favor by competing in a  tennis match. The loser does not give up, he risks it all, gives her a perl necklace and plays an irresistible long song .
The girl immediately falls in love with him and together they leave.
One man, who could not win her, remains in  deep despair. The happy couple returns and cheers him up
Johann Strauss:
Seufzer Galopp
Eugene Damare:
Le merle blanc
Erich Kaufmann:
TENNIS POLKA (check Video)
Franz Lehar:
DEIN IST MEIN GANZES HERZ from "Land of Smiles" (check Video)
Fritz Kreissler:
Liebesleid
Bedrich Smetana:
Danse of the Comedians
Happy End
individually tailored programs
We can also create individually tailored programs to highlight your special events, such as private celebrations, congresses etc
Wiener Celloensemble 5+1 Members
Dummy
Gerhard Kaufmann
Born in 1943 in Austria. Professor Kaufmann received his first instruction in piano at age of five from his father, the pianist Herbert Kaufmann. He started playing cello at the age of 13, later studying with Professor Wilfried Böttcher and Richard Krotschak and winning the Pablo Casals competition 1968 in Budapest.
In 1969, he began performing with the Viennese State Opera, and since March 1973 has been a member of the Vienna Philharmonic Orchestra.
 Since 1970 he has performed as well as recorded many television and radio productions as the cellist of the Straka-Quartett. In 1974 he founded the "Viennise String Solists" with which he has successfully toured throughout Europe and Asia.
 2008  he founded the "Wiener Cello Ensemble 5+1"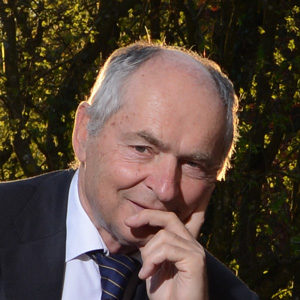 Dummy
Florian Eggner
Born in St Florian near Linz, Austria, Florian started to study the cello at the age of seven.
In 1990 he became a student of Wilfried Tachezi at the Bruckner Conservatory Linz and in 1997 of Wolfgang Herzer (former Principal Cellist with the Vienna Philharmonic Orchestra) at the University of Music and Performing Arts Vienna, after which he continued his studies with Clemens Hagen at the Mozarteum Salzburg.
His versatility as a musician can also be seen in the co-foundation of the fusion ensemble "Table 6" for which he also composes. Florian Eggner was first prize winner in the national music competition Prima la Musica in 1996. He has given concerts in the former Czeschoslovakia, Hungary and Spain as well as his native Austria.
 Florian Eggner is a member of the world famous Eggner Trio.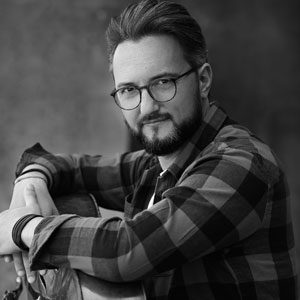 Dummy
Milan Karanowic
Milan Karanowic ws born in Belgrad, Serbia in 1980. He began to play cello at the age of 8, studying with Professor Nada Jovanovic.
1999 he began his studies at the Conservatory of Music in Vienna with Professor Jotscho Bayrov. He has taken part in several master classes with such renowned cellists as Mistislav Rostropovich and Mischa Maisky.
Mr Karanovic was awarded first price in international competitions in Italy,Slowakia,Germany and Austria,which led to many solo appereances, including an appereance as a solist with the Slowakian Radio Symphony Orchestra.
His artistic career includes radio and television productions as well as a CD recording with members of the Vienna Philharmonic.
Dummy
Sebastian Bru
Mr. Bru is native Viennense and was born in 1987. Coming from a family of musicians, he began playing cello at the age of eight under the tutelage of his father, continuing his studies with Prof.R. Wimmer and Professor Josef Podhoransky and later with Professor R. Nagy at the Conservatory of Music in Vienna.
He also took part in master classes with Steven Isserlis and David Geringas, as well as winning several prizes in Austrian competitions for young musicians.
Sebastian Bru has had a prodigous start as a soloist performing, among others, with the Viennese Chamber Orchestra, the Sofia Philharmonic ,the Austrian Radio Symphony Orchestra at an early age.
From October 2010 he was principal cellist of the Vienna Symphony Orchestra and from 2011  he is member of the Vienna Philharmonic Orchestra.
Dummy
Bernhard Naoki Hedenborg
Mr Hedenborg was born in Salzburg in 1979 and began to play cello when he was 6. In 1993 he began his studies with Heinrich Schiff at the Mozarteum in Salzburg and later at the University for Music in Vienna. He took part in master classes with D. Gerings, Z. Nelsova,M. Perenyi,and won first prizes at the competition in Gorzia,Italy,won the Janacek prize at the Radio competition "Concertino Praga" in 1994 and was awarded the silver medal at the International Tchaikovsky competition for young musicians in Oslo. He has appeared as a solist with the Mozarteum Orchestra Salzburg, the Cologne Radio Orchestra, the Prague Symphony, and the Tokyo Metropolitan Orchestra. A Bavarian Radio Chamber Orchestra in the main concert hall of the " Wiener Musikverein" highlights his artistic career. Since 2011 he is member of the Vienna Philharmonic Orchestra.
Dummy
Joanna Sachryn
J.sachryn began her cello studies at the music school in her hometown of Stettin,Poland. Later,she studied with Professor Gerhard Mantel in Frankfurt am Main and on a two year scholarship, with William Pleeth in London.
Master classes with Harvey Shapiro, Martin Ostertag and in particular Mistislav Rostropovich, as well as working together with such artists like Nikolaus Harnoncourt, Murray Perahia and Rudolf Barschai,who have greatly influenced her musical personality.
Ms.Sachryn was only 17 years old when she won the solo cello position at the Stettin Opera. Since then, she has performed with numerous renowned European orchestras and ensembles nationally and internationally. She is teaching international master classes in Germany, South America, Korea and China regularily.
Dummy
Karin Bonelli
Karin Bonelli thrives on being surrounded by an ocean of sound and the creative individuals who make it homogeneous. With this being the case, it is most fortunate that since 2012, she has been a member of the Vienna Philharmonic Orchestra, which creates its own singular harmonious ocean of tonality. She was the first woman to obtain a position in the wind section of the Vienna State Opera Orchestra and with that, also in the Vienna Philharmonic.
However, it was not fortunate circumstance alone that placed this young artist in this outstanding musical entity, but rather a long, arduous journey, beginning with her first flute lessons under the tuteledge of her mother – her father also being a flutist and professor. She consequently studied in Linz, Vienna, Lyon, and Munich with teachers such as Gisela Mashayekhi-Beer, Günter Voglmayr, Philippe Boucly, Wolfgang Schulz, Julien Beaudiment, Philippe Bernold and Karl-Heinz Schütz. The interaction with these instructors provided Karin Bonelli with a precocious comprehension of various regions, concepts of sound and styles of playing, which allowed her to develop her own individual musicianship without ever stifling her endeavours to further her professional ability.
In addition to various competition awards at an early age, she was still young when she was introduced to the orchestral world, playing with the Vienna Symphony, the National Orchestra de France and the Opera National de Lyon. More currently, along with her position in the Vienna Philharmonic with whom she experiences all of the world-renown conductors and soloists, she is a founding member of the "Vienna Wind Quintet" as well as the "Klangkollektiv Wien". With such musically energetic partners like the violinist Benni Schmid and the pianist Markus Schirmer, Karin is extremely devoted to chamber musical performance, as well as giving her own solo flute concerts. She was an instructor at the Music University in Graz (2017/18) and, more recently, is teaching at the University of Music and Performing Arts in Vienna. She strives to develop individuality in the young flute players, encouraging them to discover their own musical talent.
When one listens to the lyrical sound of Karin Bonelli in performance, one is not surprised that she would have liked to have pursued a career in singing as well. Indeed, with some imagination when at the beach, one might imagine her "singing flute" in the melodious sounds of the seashore.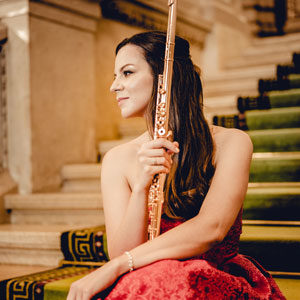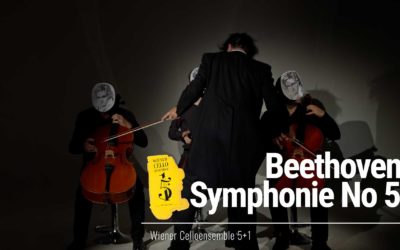 Beethoven Symphonie No 5 – To celebrate the 250th anniversary of Ludwig van Beethovens birth
mehr lesen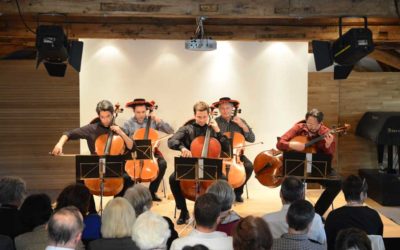 Konzerteinladung für zwei Konzerte am 22. November 2020. Veranstaltungsort ist der Raiffeisensaal Klosterneuburg. Karten sind nur über Vorreservierung erhältlich.
mehr lesen